Yes, we are open!
Everyone keeps asking, "Are you open?", and we can now say with resounding confidence, "Yes! Altius on Mt. Washington is open!"  We still need to put a few finishing touches on the outside, but we would love to welcome you!
We have inclu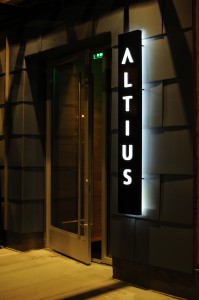 ded reviews from our overwhelmingly positive opening weekend:
Amazing Experience  *****
Altius is going to become one of the hardest reservations to book in Pittsburgh. I think the only reason I was able to get in was because people didn't know it was open yet…While most restaurants on Mt. Washington seem to rely on their view and don't put much effort into innovation of their food, Altius combines a stunning view with a unique, high quality menu….
Meticulous Attention to Detail *****
The ambiance of this restaurant is a step above anything else in Pittsburgh, it has a chic modern feel. The food was excellent, the presentation showed an attention to detail and the sauces superb!
*****
We stopped in on a whim and I'm so very glad that we did. The decor, view, and FOOD were amazing. We will absolutely be returning!
NEW IN MT. WASHINGTON *****
"service was wonderful and the food was excellent…"
*****
"Fantastic place, great location and best view of Pittsburgh.  Nice interior , appetizers were great any one you pick…"